---
Rejuvenate your smile with the better-looking, longer-lasting, less-invasive approach to dental restoration
BIOCLEAR REJUVENATION
Full Bioclear rejuvenation including black triangle elimination, instant ortho correction, replaced biting edge with a smooth flowing arc. Same day results pictured.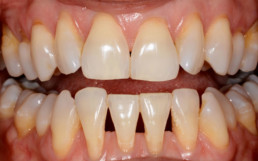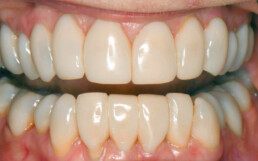 What can Bioclear do?
Bioclear rejuvenates your smile by reshaping uneven or small teeth, repairing chips and breaks, fixing gaps, and more.
Fill in the triangle-shaped gaps (black triangles) created by receding gumlines
Fix chips or breaks without replacements or crowns, leaving as much of the underlying tooth structure as possible
Repair small or misshapen teeth to create an even smile
Cover stained or discolored teeth to create a long lasting, natural looking smile
FIND AN APPOINTMENT
The Bioclear Method is an approach to cosmetic and restorative dentistry that is used in lieu of traditional fillings, bonding, or veneers. Pioneered by Dr. David Clark in 2007, Bioclear lasts longer than traditional composites, porcelain, or amalgams. It looks better too, with a more natural and consistent finish.
The procedure is minimally invasive and it allows dentists to retain more natural tooth structure and enamel than traditional methods. It is quick as well: since most procedures can be done in one appointment.
Bioclear features the use of thin, clear, anatomic tooth forms (called a matrix, or matrices) fitted around the tooth to be repaired. These forms then have warmed composite resins injected into the form which allows the composite to flow around all areas of the tooth. Once in place, the composite is then hardened (cured) with light. After that, the matrix is then removed and the structure is polished, resulting in an extremely strong, finished tooth that looks and feels natural.
Common questions about Bioclear answered.
Look for Bioclear-certified seals on your dentist's website for evidence that they are indeed qualified to perform Bioclear procedures. Dentists with Bioclear certification have studied directly from the source—the Bioclear Learning Center. These dentists get training in different areas, such as posteriors (back of the mouth), anteriors (front), and black triangles. A dentist might be trained and/or certified in one or several of these areas.
You can trust a Bioclear-certified dentist with your smile. They are masters who have put in the time and effort to learn and perfect their technique, and have been evaluated and approved by Bioclear itself.
---
Dr. Clark is the creator of the Bioclear Method and Products and is the primary lecturer at the Bioclear Learning Center
The Bioclear Learning Center and Bioclear Matrix Systems (the company that makes Bioclear products) are both based in Tacoma, Washington. These are the organizations that Bioclear dentists turn to for tools and training.